This page contains examples of different types of work which I have undertaken for clients, beyond a straightforward blogging or website-writing brief.
Communications Officer
From 2016 I began working as a contractor for Cornwall Voluntary Sector Forum, initially with a single project, then taking over half the daily news provision, and eventually the entire daily news output. Other one-off projects were added, including updating the website, and the member database, as well as publicising events. From March 2020, Cornwall VSF stepped up, with a new CEO, providing support and resources for the voluntary sector locally, as well as linking organisations together and ensuring sector representation at the highest levels of decision-making. This became almost a full-time position, throughout 2020, finally winding down by March 2021, as new funding was secured, and a total of 6 new team members were employed. Over the course of my time writing news for VSF, I created approximately 1,200 news items and only slightly fewer 'noticeboard' items advertising events and courses.
Leaflets
Smile Dental
In 2019, I began working with The Smile Centre in Launceston to update their paper patient leaflets. 3 out of 4 were completed before the pandemic put everything on pause.
Zito Partnership
Creating a leaflet to cover the second facet of the business, based on the existing leaflet for the initial service they offer. This required an understanding of what they do, working with people who have been the victims of medical malpractice, and then ensuring that the two leaflets were laid out in a way that made them clearly fit together as a whole.
Cornish Chillies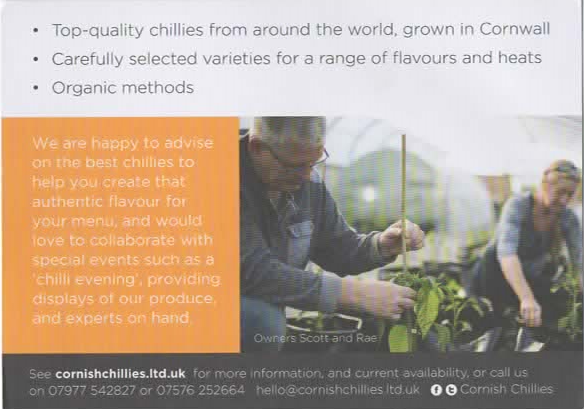 I was approached to produce a postcard to go alongside samples of chillies sent to restaurants.  This was another example where I had to take words away from what the client wanted to say – the typeface would have been tiny had we included everything!  Bullet points, pictures and concise text, plus a link to the website, was all that we needed in the end. I also helped them brainstorm ideas for business cards, although they decided not to call themselves 'Chilli Maestros' in the end.
Awards submissions
KinetIQue/Ethica Diamonds
I was approached to write applications for KinetIQue for the 2016 Cornwall Sustainability Awards, in 2 categories. Working closely with the owner, and getting to know the business, these were interesting to write, and a different tone of voice to some of the other work I've been doing. Shortlisted in both categories, KinetIQue came away with a highly commended certificate (right).
This was the start of my work for the company. I have subsequently been taken on to write regular blogs for them.
After this, I was asked to help them write entries for the Cornwall Business Awards 2017, in 4, later 6 categories. This required even more detailed research, and careful use of statistics, to avoid repeating ourselves across all the applications. Shortlisted for the Sustainability and Innovation categories, they were unlucky to take silver, twice, but enjoyed the awards evening none-the-less!
Multi-faceted service
Cornwall Health Promotion Service – Savvy project
I proofread and edited three version of a leaflet for this team, plus their handbook for members. I have also given advice on the through-flow of their website, and helped create a communications plan for the service launch, together with a press release when the project is ready to be officially launched. I have written 1-page, 1-paragraph and newsletter-article versions of 'this is what Savvy is all about', for use in the different settings.
Social Media training
Jane Bostock, who runs the charity Touch Eldoret asked for my help to set up a Facebook page for the charity, and also error-checking their leaflets & web page. She left the following review on my Facebook page:
Our charity asked for Hannah's input and has been delighted with her speed, efficiency, thoughtfulness and kindness towards us less able folk.

Small-scale copywriting
Cornwall's Chocolate Cove
A new start-up CCC were wanting to start offering chocolates by subscription, and also do some work on their website and other materials.  The taster samples of raw chocolate were much appreciated, by way of a Thank you!
Rethink Marketing
I have carried out a couple of pieces of work for Charlie Snell, of Rethink Marketing. Firstly I created 100-word biography pieces for 18 members of staff at an estate agency for whom Charlie was creating a website. Making short, interesting and different pieces for that many staff – with a tight deadline – was an interesting challenge, but fun to do.
Charlie was very happy with my work, both quality and speed, and has asked me to do some paraphrasing for another website.

Blogging training
South West Labels
A new member of staff had been taken on to handle some of the website content, social media and blogging, and I spent an hour or so talking through the intricacies of blogging, discussing his queries, and sharing some ideas for content. He left more confident in his ability to blog in an appropriate manner for his company, and full of plans.
I am happy to help any other companies work through the details of blogging for themselves, if their subject area is more complex than I could easily pick up to blog about for them. Alternatively, I would be happy to proofread and edit blog posts someone else has created, if they're unsure of their writing ability but know the content inside out.