HD Words is a small copywriting company based in Cornwall, providing communications support to businesses, individuals and charities.  Set up in 2015, the aim of the company is to provide high-quality written work for customers, whether from scratch or editing existing text, wherever that writing is to be read.
Everyone recognises good writing but not everyone can produce it.
I believe there are many small businesses whose owners lack the time or skills to promote themselves as well as they might, and am offering my services to help them improve the way they present themselves to customers, thus gaining more customers, and improving their business.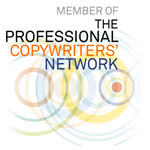 HD Words is a member of the Professional Copywriters' Network, the UK's largest membership organisation for commercial writers.
Between June and August 2015, I took Diploma courses in Digital Marketing and Social Media, from the Shaw Academy, passing both with distinction.
I've also been taking a course on WordPress, with the fabulous Digital Peninsula Network, to learn how to improve my own website – which has the handy additional effect of being able to understand a little better what's going on in the back of my clients' websites too.
I am also working my way through Google's Digital Garage training programme, looking at Search Engine Optimisation, analytics, online advertising, and so on.
HD Words has a listing on the Omni Market, a businesses and services directory for Cornwall.  Click the logo to see my listing.
'HD' is me, Hannah Danson.
I have worked for many years in communications, specialising in writing and editing, and social media. I have experience in business-to-business communications, as well as business-to-public and internal communications.
My previous employment was for Cornwall Council, where I produced press releases, wrote, compiled and edited a fortnightly staff newsletter, handled events (including publicity, handouts and stand artwork) and set up and monitored social media accounts.  I also worked on public information, producing leaflets about Council services, for a variety of audiences, taking into account special requirements for people with learning disabilities, sight loss and hearing loss.  I worked with colleagues to produce communications strategies for their team, policy or event, ensuring all partners and stakeholders were informed as necessary.
Outside of work I enjoy singing, reading, walking and spending time with family, and I am that woman who corrects signs in shops.