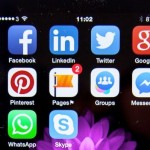 'OK Hannah, you've sold me. My business needs to be on social media, and I think I know where. I get that I have to post regularly, but I have no idea what to say!'
Ah-ha, the crux of the matter. Content!
Who am I writing it for?
This should be your first question. And the answer's not what you're thinking. You're busy itemising your customers, but stop.
You're writing this for you. The purpose of your business's social media presence is entirely FOR YOUR BUSINESS. You are not a public service! You put things on Facebook, Twitter, etc, to raise awareness of your brand, or draw customers to your website / restaurant / shop.
You have to remember this at all times!
Target audience
But yes, you do need to know who your target audience is as well. Writing in a slangy conversational style when your target audience is silver surfers, or using long formal words when your target audience is teens, won't draw in the punters.
If you're aiming at new mums, you are probably wise to assume they're a bit short on time, so keep it brief. For business to business, like Linked In, then you need to be writing differently to how you would approach those new mums. Think about it, and work out who you're talking to.
But what do I write about?
Your key aim is getting people to buy your product, support your cause or attend your event, or to raise awareness of your brand. So to achieve that, come up with a list of things you can calendar throughout the year, and relevant topics you could cover. For a restaurant, you might come up with the following list:
An announcement every time you change your specials board, or your main menu.
A monthly feature on a bottle of wine you sell – origin, tasting notes, and food pairings.
A monthly feature on one of your ingredients, eg your beef, shellfish, or salad vegetables, with origins, and how you use it.
A promotion every couple of months, say £10 off for the first 5 bookings to quote a certain code.
A new chef joining the team, with a little bit of biography and some specialities they're going to be preparing.
A special feature for calendar events like Christmas, Valentine's Day, Father's Day, Mother's Day, school holidays, maybe with special menus, special offers, etc.
Just a few ideas, but you can add and adapt for your business.
Planning
Planning is good, then you don't have to set there wondering what in the world you are going to write about every time. Facebook and some of the others even have a scheduling tool, so that you can write a bunch of posts all at once, and have them post themselves across the next couple of weeks, if you're going to be busy.
Seasonality works well. As do bandwagons. Did you notice the outbreak of Union Jack flags during the Diamond Jubilee a couple of years back? The world and his dog brought out ranges of products in red, white and blue, or with crowns, or called the Elizabeth Whatever-it-was. There was a rash of retrospectives, looking at fashion during the reign of Queen Elizabeth II, or food, or cars. If you can legitimately jump on a bandwagon, then do so – people wouldn't bother with them if they didn't work!
Making people come back to your page
You want repeat visitors. So how about running a series – top 10 something-or-others, one a day, or a weekly roundup on a relevant theme. Or invite people to submit entries and vote on best-something-of-the-week, a caption competition, or photos under some theme. Make sure it's relevant though. Best Christmas tree at Christmas time is all very well, but is only really convincing if you're an interior designer, seller of Christmas trees, or maybe into recycling.
So, I hope that's given you some ideas. Once you get going it's easy. You'll be going about your everyday business and think 'ooh, I can make a Facebook post about this', so make sure to jot it down until you have time to act on it!
If you're still stumped, then give me a call. I can talk to you, have a rummage through your website or shop, and come up with a plan for you like the fictional restaurant above, taking into account your social media channels, your audience, your aims and the time you have available to manage it all.
I will be writing next about blogging for your business, looking at why, and what, amongst other things. Stay tuned!