Next week will be the week of CSA.  That's the Cornwall Sustainability Awards, and CSA Architects, no relation!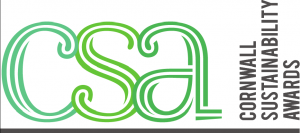 The Cornwall Sustainability awards are an annual celebration of all that's good and green in Cornwall, with categories for small, medium and large businesses, as well as categories relating to food, sustainable energy, product innovation, the built environment, and others.
My link to the CSAs goes back to my days at Cornwall Council, when I edited a newsletter for one of the directorates, into which I introduced a Green column.  Liaising with a lady called Veryan Jones, monthly, to dream up content for this column, I discovered she ran the Cornwall Sustainability Awards, and I mentioned them every so often in my column.  Veryan and I became good friends, and when I left the Council, stayed in touch.  Hence, when our paths crossed early in 2016, Veryan was interested to involve me as approved copywriter for the awards, and invited me to present at an Application Writing Workshop prior to this year's submission deadline.  I had also been recommending certain of my clients to apply, which resulted in me acting as consultant to KinetIQue, making suggestions about how they could improve their application, and proofreading the initial draft.
Hopefully they'll win – they have a fantastic product – a stunning man-made diamond that has virtually no environmental impact at all, and costs 10% of the price of an equivalent mined diamond.
The awards ceremony is on Friday night (2nd December) and I'm sure I will be making a fuss on social media if KinetIQue do well!
And CSA Architects are a new client of mine, for whom I'm going to be doing some writing in the coming weeks.  They have designed some fabulous homes, and are putting together a brochure to showcase their skills, but want someone to produce the writing who is a step removed from the design and mechanics of the process, and can see it more clearly as a potential client might. I shall have a lot of fun working with them, and making sure I produce words that are as sharp as the images in their brochure.