In the run-up to Christmas, it's easy to get lost in the muddle of tinsel, office parties, family expectations and appropriate gifts, and lose sight of what the season is all about.
Even if you don't believe in the baby Jesus, born in a manger a couple of thousand years ago, it's still a good opportunity to indulge in a little 'peace on earth and good will towards all mankind'.
At HD Words, my appreciation of the Christmas message takes the form of supporting an endeavor to bring 'Christmas in a box' to local families who wouldn't be able to afford it otherwise.

The Cornwall Christmas Box organisation co-ordinates donations of Christmas Boxes from kind people across Cornwall, delivering them to the local Children's Centres in the weeks before Christmas, for social services to deliver to the families who need them the most.
These are families who will put their last pennies into gifts for their kids, forgoing anything for themselves, and not able to spare anything for a Christmas meal of the kind that the rest of us take for granted. They'll be families living in poverty, young mums struggling to make ends meet, families where the child is a carer for one or both of their parents. Families who are getting support from the 'system' but only for the things that they 'need', not 'luxuries' like a Christmas pudding. People, real people, who go without, day in and day out.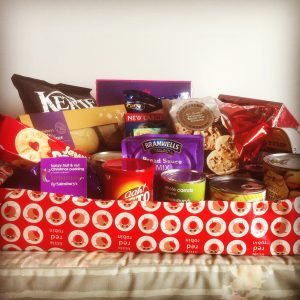 The boxes consist of everything you'd need for Christmas dinner – meat, potatoes, veg, gravy, stuffing and cranberry sauce, Christmas pudding and custard, plus 'extras' such as crisps, nuts, Christmas cake, mince pies and something non-alcoholic to drink. After experimentation, it's been discovered that tinned produce works better than fresh, and it can't be assumed that the families receiving the boxes will have an oven fit to roast a turkey in in any case. Vouchers don't really work, as they're not universal, and breakable packaging is disastrous!
Last year, around 120 boxes were collected, and passed out, mostly in mid-Cornwall. This year we're trying to spread the net a little wider, and are approaching businesses in Falmouth, St Ives and Hayle, Penzance and the northern and eastern ends of Cornwall, to act as collection points, to open up opportunities for people who live in those areas to donate as well.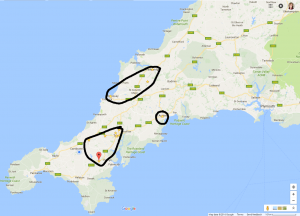 My involvement has come through the church I attend, in Truro, Truro Vineyard Church, soon to be re-named Three Rivers Vineyard. We've been running the scheme there for 13 years, and have seen it grow from something we did in-house to this tremendous outpouring of goodwill. All sorts of people have got involved, from primary schools to churches, businesses and gyms, teams, individuals and groups of friends or colleagues. It's been amazing to watch it growing, and lovely to see the businesses get involved too.
If you're interested in putting together a box, see the list of contents at www.cornwallchristmasbox.co.uk, where you can also find out more about the history of the project. Thankyou!
If you're interested in volunteering as a collection point, or supporting the project in any other way, give me a call or drop me an email, and we can discuss the details. And thankyou very much!
There will be posts on Twitter and Facebook in the coming months, and more information on the website as more collection points are added. The latest exciting news is that Dash have agreed to sponsor us with a hi-top Transit van for collecting the boxes, which is very generous of them.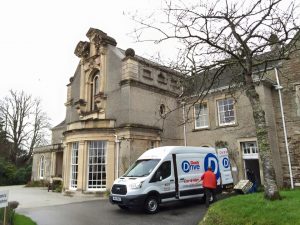 See you on social media, or at Falmouth Business Breakfast on Thursday 17th November, to hear more about the scheme.